One of the prominent and inspiration athletes is Inky Johnson. More than as a football player he has got his name for being a motivational speaker. His passion of playing foot ball was smashed in the year 2006 and he got his right arm completely paralysed at the University of Tennessee. Johnson likes to be funny with everyone and playable person says many sources.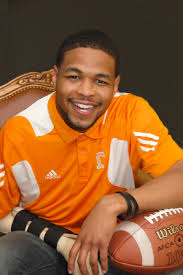 His career ending moments
When Inky Johnson faced the life threatening situation, the other players of Tennessee got so emotional and felt that none could replace his position. His promising career and life came to an end in a day. It is with a deep admiration that everybody supported him in his hard times. Johnson's education was in sports psychology and all his early time revolved around his game. His playing alone has not influenced many but his personal character has touched many lives. Come back after a tragedy was not as easy to be considered but Johnson had his drastic come back as a speaker and wanted to see many Johnsons coming up in field.
Failure as a next life
Inky being an athlete had a career turn because of his tragic failure. Nevertheless, wherever he is he marks his presence and as a motivational speaker success say that none could replace his talks and the powerful messages he delivers across. He has been called as Keynote speakers for various places and especially to the Greater Knoxville Sports Hall of Fame induction ceremony. Many players even now get highly emotional and get down in their spirit by looking at his paralytic arm. But aside all this, his next side of his life encouraged them and comforted them. He delivers his speeches through the medium called Ink-spirations to larger people.
January 5, 2019